Working builds confidence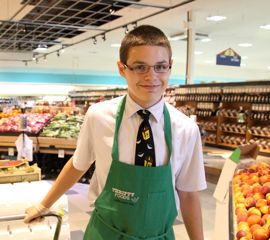 Robert's story
In January 2010, Robert became a TeenWork participant. With the help of his job coach, the 17-year-old youth spent a few months preparing a cover letter, fine-tuning a resumé, researching the job market and applying for positions. By April, Robert had found a work experience position at the Thrifty Foods on Admirals Road.
Robert began working in the produce department, where he stocks fruit and vegetables, sweeps the floor and assists customers in locating any items they need.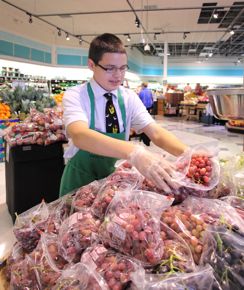 During his first two months, Robert received continuous support from his job coach and gradually became more comfortable with his tasks and working environment. There is a fine art to placing fruit in a way that looks good and yet still prevents it from tumbling to the floor, an art Robert has mastered.
As he became more familiar with his tasks, his job coach gradually reduced work-site support and currently only conducts brief check-ins once every few weeks.
Robert also learned to travel by bus independently to and from work and feels very capable working alongside his manager and the produce team.
Robert's experience at Thrifty's has given him the opportunity to thrive and gain self-confidence, both on the job and in other areas of his life.
As Robert puts it, "I really like work, everyone is really nice and I do a good job!"
Spring 2011, update: Robert has just started a paid, part-time position with The Red Barn Market as the newest addition to the produce team!
---
View
more stories
about our teen participants.
Read testimonials about the TeenWork program.
*Please note: TeenWork is a small-scale pilot project with limited participant capacity.
Go to Top