Creative solutions help transition to adult supports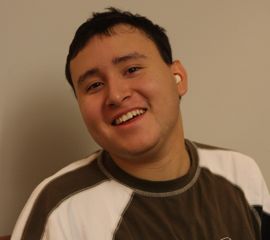 Roman's story
Roman handles a lot of quarters in a week – up to $1,500 worth of quarters to be precise.
The 20-year-old works at the Recreation Oak Bay, diligently rolling up all the quarters that swimmers and gym enthusiasts use to rent lockers.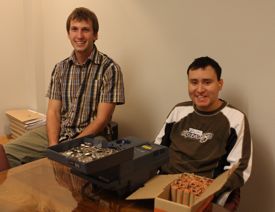 Roman is among the first group of young people to transition out of the TeenWork program. Toward the end of 2010, five participants very successfully "graduated" from the program. They continue to work at their jobs, but are supported by other agencies.
Whereas most of the five teens are now supported by adult employment agencies, Roman's case proved a bit trickier. Because he has higher needs and requires more support, the usual adult employment agencies were not the best fit for him.
Instead, TeenWork Program Coordinator Xela Holmes Rysstad got in touch with his day program and his rec centre employer. The three came up with a plan that has enabled Roman to keep the job he loves, while receiving on-the-job support from his day program worker.
"The employer was right on board and wanted to keep Roman on the job," says Xela. "In the end, Roman transitioned really smoothly."
What's more, the increased independence that Roman has achieved in his job has spilled over into other areas of his life. For instance, he is now able to take Handy Dart on his own, a huge step in becoming more self-sufficient. His employer has certainly noticed the change.
"Roman has been working for Recreation Oak Bay for over a year and has done a great job," says Grant Brown, the rec centre's manager of administrative services. "It has been great to watch him grow and take on a more independent approach."
---
View
more stories
about our teen participants.
Read testimonials about the TeenWork program.
*Please note: TeenWork is a small-scale pilot project with limited participant capacity.
Go to Top