Transitioning from work experience to paid work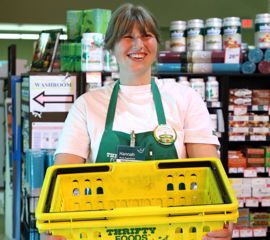 Hannah's story
Hannah was 18 years old when she began a non-paid work experience job at the Cloverdale Thrifty Foods. She began working in several different sections of the store, including the aisles and the bakery. At first, Hannah's favourite section was the bakery, where she packaged and priced muffins, cookies and pies. Then she moved to bagging groceries. Hannah loves this position, in which she can interact with customers and share her friendly smile.
Initially, Hannah was reluctant to work without the ever-present, hands-on support of a job coach. Over time, however, her ability to work on her own increased to the point where she could complete tasks with her job coach standing nearby.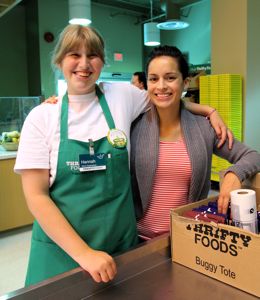 Success at work is very important to Hannah, who recently graduated from high school and has since been hired for a part-time paid position at Thrifty Foods part-time.
As her mom, Eleanor, explains, "For all teenagers, experience in the working world is crucial as they develop a sense of self and prepare for the transition into adulthood."
Hannah has recently transitioned out of TeenWork into adult employment support for her position, and continues to work at Thrifty Foods on Cloverdale, where she has made many friends and is happy and comfortable with her duties. She has learned how to ask customers whether they need paper bags, how to put the heavy items at the bottom of the bags and to always tell the customer to "have a good day!" Hannah has received many compliments from customers who tell her what a great job she is doing, and it's clear that she loves working with the public.
---
View
more stories
about our teen participants.
Read testimonials about the TeenWork program.
*Please note: TeenWork is a small-scale pilot project with limited participant capacity.
Go to Top