Taylor's story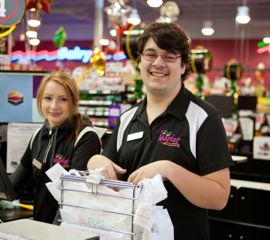 Walk into the Market on Millstream on a Saturday morning and you'll find Taylor there, ready to make you smile.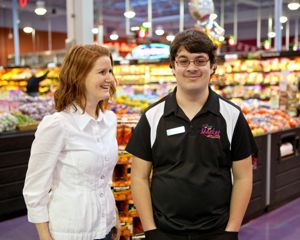 The 17-year-old, who attends Pacific Metchosin Technical Centre, knew he was ready for a new job after mastering his paper route. So Taylor and job coach Alyece Hoag worked through TeenWork's first stage, during which skills and learning styles are identified. An interview opportunity quickly became available.
Natalie Foster, manager of the Market on Millstream, knew she wanted Taylor working at the Langford grocery store when she was introduced to the friendly, enthusiastic young man.
"He has a very outgoing, bubbly personality and a good sense of humour – he's a cool guy," she says.
By adapting a position to involve a repetition of tasks, Natalie and Alyece hoped Taylor would overcome one of his biggest challenges: memory.
Beginning in the fall of 2012, Taylor was given the responsibilities of bagging, collecting carts and baskets, monitoring the coffee station, checking the bathrooms, and acting as a runner to connect customer service to each till should the cashiers require assistance.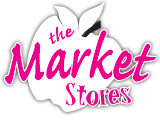 Natalie highlights how Taylor's hard work has proven effective during busy times, since it allows the cashiers to focus on their tills.
"He has kept the front end moving very smoothly on Saturdays, which is one of our busiest days."
Through job coaching and commitment, Taylor has learned how to move between tasks, converse with customers, and work independently. Described by co-workers as polite, humorous, and friendly, Taylor is clearly a valuable member of the Market on Millstream team.
---
View
more stories
about our teen participants.
Read testimonials about the TeenWork program.
*Please note: TeenWork is a small-scale pilot project with limited participant capacity.
Go to Top