Starting a new job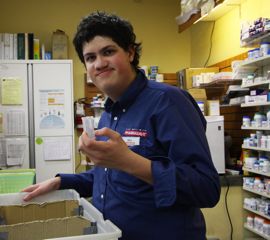 Alex's story
Working at Pharmasave has been an incredibly positive experience for Alex, who is now 17 years old. He's learning new skills, working with a wide range of people and becoming comfortable with the protocol associated with being in a workplace.
"Alex adores his work and is fantastic with his co-workers," says Xela Holmes Rysstad, TeenWork's program coordinator.
"He has become more and more independent and his time-management skills have really improved."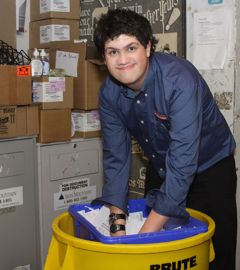 Alex holds a custodial position at Pharmasave on Oak Bay Avenue. His duties include recycling, breaking down cardboard boxes, collecting garbage throughout the store, and cleaning the bathrooms.
His favorite part of the job, though, is making sure that the pill bottles and lids are always fully stocked for the pharmacist. This job is more complicated than one might think because the bottles come in a large range of sizes, with sometimes miniscule differences between them.
"Of course, I like getting the money," said Alex, who has worked at Pharmasave for a year. "And I like going there because everybody likes me – they enjoy having me work there."
TeenWork staff customized an employment plan for Alex that includes having the tools that help him accomplish his tasks. For example, he uses a checklist to cross off each task once it's completed and a digital timer so he can write down his hours at the end of each shift. A special box was created so he can more easily sort the pill bottles and their lids.
"Alex really is doing very well in his job," says Xela. "We've seen very positive improvements over the past year."
And Alex, clearly, loves working. He gets excited each week as the day of his shift draws near and carefully sets out his work clothes the night before. As well, he recently began getting help from his job coach to update his resume so he can find a second part-time job.
---
View
more stories
about our teen participants.
Read testimonials about the TeenWork program.
*Please note: TeenWork is a small-scale pilot project with limited participant capacity.
Go to Top