Sam's story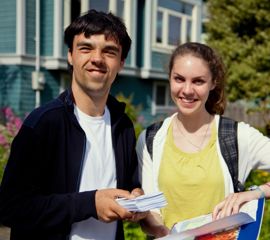 If you live in Fairfield and find a flyer for Costa Verde landscaping in your mailbox, chances are that TeenWork participant Sam was the delivery man. Since April 2013, this sunny job has allowed Sam to navigate his neighbourhood streets and develop his independence.

Soon after Sam joined TeenWork, job coach Alyece Hoag discovered that Sam has an impeccable sense of direction, which helps him take the bus and memorize routes. After learning that Sam is also a physically active guy, flyer delivery seemed like the perfect match.
Sam began distributing flyers with full support from job coach Nicole Heron. By following a checklist with specific steps, the two established a set routine. Nicole gradually decreased her involvement as Sam's confidence grew.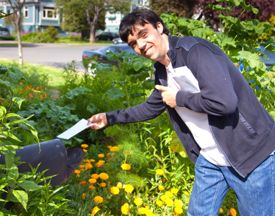 Now, Sam independently prepares his supplies and delivers flyers. He has also become more comfortable making phone calls and emailing his employer upon completion. Not only has Sam increased his level of independence, but he has gained a sense of pride with all he has accomplished so far.
The young man's mom, Theresa, describes Sam's growth: "He is learning so much and clearly becoming more responsible, which is spilling over into other areas of his life." This appears to be the case, as a work experience through his school has resulted in Sam picking up a second job at Thrifty Foods.
Sam is looking forward to graduating this June. He plans on continuing his work endeavours through the summer of 2014 and then beginning his post-secondary education at Camosun College in the fall.
---
View
more stories
about our teen participants.
Read testimonials about the TeenWork program.
*Please note: TeenWork is a small-scale pilot project with limited participant capacity.
Go to Top