Ryan's story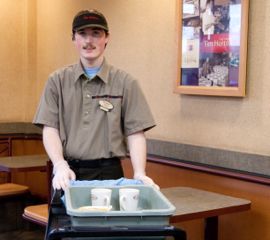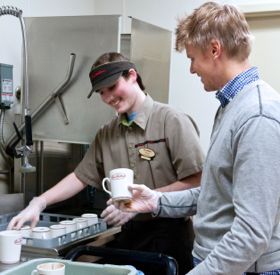 Ryan joined the TeenWork team back in 2011 and has since learned many valuable employment skills, including resume writing, interview etiquette, and a strong work ethic on the job. With job coaches Hamish Black and Alyece Hoag, Ryan has been able to stretch his boundaries and notions of suitable employment, straying from his usual interests of gaming and visual art.
During the earlier stages of the TeenWork program, Ryan gained lots of interview practice and learned what it takes to impress employers. These tips and tricks include proper clothing and hygiene for interviews, answering questions with confidence and positive language, and the importance of a simple smile.
TeenWork job coaches have encouraged Ryan to highlight his traits that would benefit a workplace: punctuality, honesty, creativity, and a willingness to learn. Ryan's growth has been evident as he progressed from mock interview questions to formal interviews with employers. Ryan was successful and gained a position at Tim Hortons in the winter of 2012.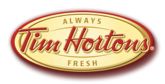 Job coaching has helped Ryan learn the various tasks of washing dishes, emptying garbages, clearing tables and sweeping. Time and repetition of tasks have allowed Ryan to gradually work a full shift without job coach support.
Currently, Ryan is working independently and even received two Employee of the Month awards for his hard work and excellent attendance. Ryan has been accepted into Camosun College's Visual Arts program, which he will begin in September 2015.
---
View
more stories
about our teen participants.
Read testimonials about the TeenWork program.
*Please note: TeenWork is a small-scale pilot project with limited participant capacity.
Go to Top