Nick's story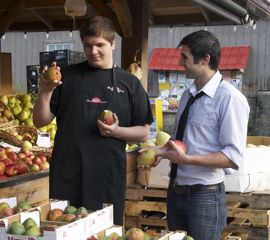 With a job offer from Red Barn Market already secured, Nick just needed some extra support to build his independence. So his future employer connected with TeenWork.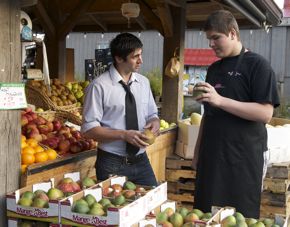 Red Barn Market already had another TeenWork participant employed at another location and the experience was working so well, the produce and grocery market was happy to collaborate again.
Before working his first shift in June 2011, Nick completed TeenWork's Discovery Process with his job coach, which included creating an individualized employment plan. Through goal setting and making work a priority, Nick has been able to achieve his aspirations and become independent in the workplace.
A few of Nick's responsibilities include bagging groceries, stocking the drink cooler, and tidying the aisles at Red Barn. One of his first goals was to be able to serve ice cream. With the help of his job coach, Nick took the time to memorize the flavours, practice scooping, and manage his multiple duties. After some practice, he now handles the ice cream station in between his other tasks.
"From focusing on getting the right amount of sleep to having a balanced diet, I've seen a considerable change since Nick starting work," says Shane Morrissey, Nick's job coach. "He's a great example of someone who focused on and achieved his short-term goals."
Thanks to an employer assessment that TeenWork created, Nick received feedback from Red Barn that has helped him build his skills to become an even more effective employee. His strengths were also noted by his managers, Miranda Strect and Monique Boudewyn, who remarked that he is "friendly with customers, very punctual, and not easily flustered."
Nick plans to continue his position at Red Barn while moving on to a computer programming course at Camosun College after graduating high school next year. Nick's employment has provided him with critical skills in areas such as task and time management that will help him achieve further success in his post-secondary education.
---
View
more stories
about our teen participants.
Read testimonials about the TeenWork program.
*Please note: TeenWork is a small-scale pilot project with limited participant capacity.
Go to Top