Gaining independence on the job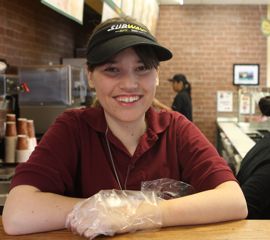 Gen's story
Gen has been a paid employee of Subway for almost a year. Like most Subway Restaurants, the one on Fort Street near Cadboro Bay Road is bustling with customers at nearly any moment of the day, so there is always lots of work to be done.
At first glance, this Subway seems the same as others in the chain: it has the same smell of Subway's famous bread baking, the same bright yellow decor, and staff members wear the same green and purple uniforms. Despite appearances, however, this Subway is special. The majority of staff have moved to Canada from other countries – such as India, the Philippines and Russia. They are each other's multicultural Canadian family, and the warmth between them is evident in their interactions with each other and the customers. As Gen says, this Subway is "heaven's kitchen."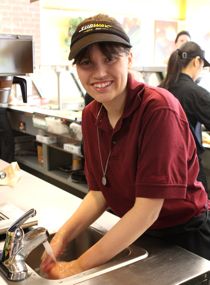 Gen has been totally embraced as a member of this inclusive, international family. She loves going into work two to three times a week and hopes one day to increase her hours even more. Her job duties include food preparation – measuring out each portion of ingredients for sandwiches – as well as some general maintenance, such as taking out the recycling and cleaning the lobby. Her bubbly nature and contagious enthusiasm make her the perfect fit for this boisterous and friendly team.
When Gen first started at Subway, continuous coaching was required to help her complete all the details of her job and to prompt her when moving between tasks. To increase her independence, Gen and her job coach created a series of "job duty checklists" that describe the required steps of each task. Gen checks off each step as she goes along, enabling her to complete her duties independently, without her job coach's prompts.
More recently, Gen has begun using a digital timer, which encourages her to complete each job efficiently during her shift. These tools have been effective in allowing the job coach to gradually reduce her level of support for the teen. For Gen, who loves showing up for her shift each week, managing on her own has greatly increased her confidence in her abilities.
She does so well at remembering the details of every job duty that she rarely needs a job coach anymore. Not only does Gen work at Subway, but she volunteers at the Queen Alexandra Foundation where she designs and creates thank-you cards. Gen is also starting to look for a second job. As she is an incredible artist, we are hoping to find a job in the art world – such as at Michael's or Island Blue Print. Gen has also just signed up to be a Victoria Art Gallery volunteer, and is hoping to get involved in an Art Gallery event soon!
---
View
more stories
about our teen participants.
Read testimonials about the TeenWork program.
*Please note: TeenWork is a small-scale pilot project with limited participant capacity.
Go to Top