Drew's story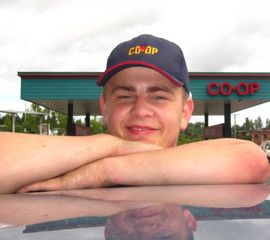 Drop by Peninsula Co-op's Commercial Cardlock on Keating Cross Road on any given weekend and you're likely to see a hardworking young man keeping the site neat and tidy.
Drew, a student from Stelly's Secondary, has been an employee at the commercial gas station and car wash since May 2011. He was hired as a weekend lot attendant following a meeting between Peninsula Co-op and TeenWork job coach Shane Morrissey.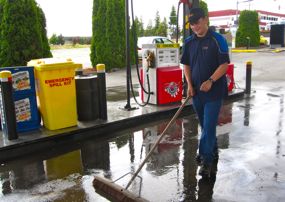 "Within weeks, Drew was completely independent on the job site," says Shane. "He has proven himself to be an enthusiastic and dedicated worker."
When Drew first started at Peninsula Co-op, continuous job coaching was required to help him learn all of the different responsibilities and to prompt him when moving between tasks. As he became more comfortable in the position, Drew quickly learned how to independently perform his duties, and Shane was able to fade his job coaching support.
TeenWork first approached the Co-op in the spring of 2011, knowing the organization's positive attitude towards inclusive employment. At the time, manager Dave Kinakin was aware of the need to improve efficiencies at the car wash on weekends and saw the potential in Drew to do so.
The self-serve gas station and car wash, which is used by commercial rigs and RVs, doesn't require cashiers or gas attendants, but the site still requires regular cleaning and maintenance.

TeenWork recently received feedback from the Co-op's new interim supervisor, Jake Petterson: "(Drew)'s doing a great job and is our most steady and reliable person in this position. Every Monday, the site looks awesome!"

Another shift recently became available and was offered first to Drew, simply because he is a stellar employee. Now, thanks to the Co-op's vision, TeenWork's collaboration, and Drew's hard work, the car wash is running smoothly on weekends.
---
View
more stories
about our teen participants.
Read testimonials about the TeenWork program.
*Please note: TeenWork is a small-scale pilot project with limited participant capacity.
Go to Top