Cody's story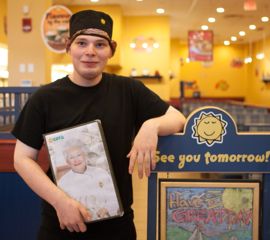 Customized restaurant position a perfect fit for teen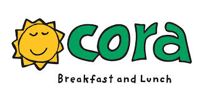 When TeenWork Job Coach Crystal James observed Cody during a work experience position organized through his high school, she knew he'd be a perfect fit for a customized position at local restaurant Cora.
Cora is a breakfast franchise that originated in Montreal and is new to Vancouver Island. Owners of the Victoria establishment, Nick and Tina Ritter, created a customized busser position for Cody to help with their front end during the busy summer season. Cody quickly picked up the steps involved in his new job and was thrilled to be working close to full-time hours during his summer vacation.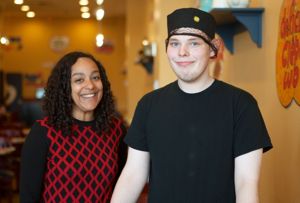 The new job couldn't have come at a better time for Cody and his family, who were dealing with financial struggles at the time. Owing to the strength and endurance of his family, support from his TeenWork job coach and the belief that "there is no such thing as perfect – you can always be working to improve," Cody and his family are doing well.
Cody is now an important member of the Cora family, takes pride in his work, and "knows his job perfectly," says Nick Ritter.
With an ethic that encourages him to continually strive to do better, Cody and his job coach are now working on improving the young man's speed and efficiency.
If you're at Cora, located near Douglas and Courtenay streets in downtown Victoria, be sure to say hello to the busser!
---
View
more stories
about our teen participants.
Read testimonials about the TeenWork program.
*Please note: TeenWork is a small-scale pilot project with limited participant capacity.
Go to Top