Remote Control Power Chair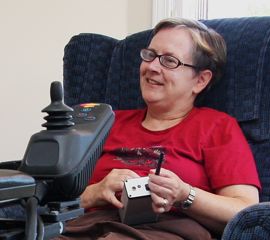 Shelley Barton was supposed to gain more mobility and independence following the delivery of a state-of-the-art power chair. The chair had lots of bells and whistles, including a seat that rises high enough for her to work in the kitchen.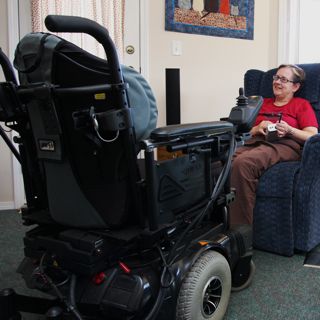 But once home, the Victoria resident who has Multiple Sclerosis discovered that despite the new device's many advantages, it had one major drawback: whenever she transferred herself to a couch, bed or favorite easy chair, she couldn't move the power chair out of the way of her legs. This left her sitting in awkward, uncomfortable positions and prevented her from using the device while at home alone.
Finally, Shelley's husband approached CanAssist to ask whether we could build a remote control to operate it.
Some people move their power chairs out of the way by using a cane to maneuver their chair's joystick, but this wasn't a good solution for Shelley.
As with every project at CanAssist, the first step was to determine whether such a technology already existed. After a thorough search, Peter McGuire, of CanAssist's engineering team, found that remote controls aren't readily available for power chairs.
Peter's solution was to insert a tiny circuit board next to the chair's larger circuit board and connect the two. When Shelley used a remote control device, it communicated via radio signals with an antenna on the little circuit board, which in turn controlled the power chair's joystick.

"We were very careful from the start about how safe we made it," says Peter. "We added a lot of safety features."
For example, the chair's joystick has "priority" over the remote control – meaning no one using the remote could control the chair if Shelley is already in it. In addition, when controlled remotely, the chair moves in "incremental movements," meaning it will only travel for three seconds before pausing and waiting for further instruction from the remote control. This way, the chair is prevented from running into walls or furniture in the home.
Now Shelley is able to move the power chair away from her bed or favorite chair without having to worry that she will be pinned once seated. When she requires the mobility of the power chair again, she simply steers it back toward herself using the remote control.
"What Peter made is just perfect," she told us recently. "It is my favourite part of the chair."
(This technology was delivered in March 2010.)

Go to Top